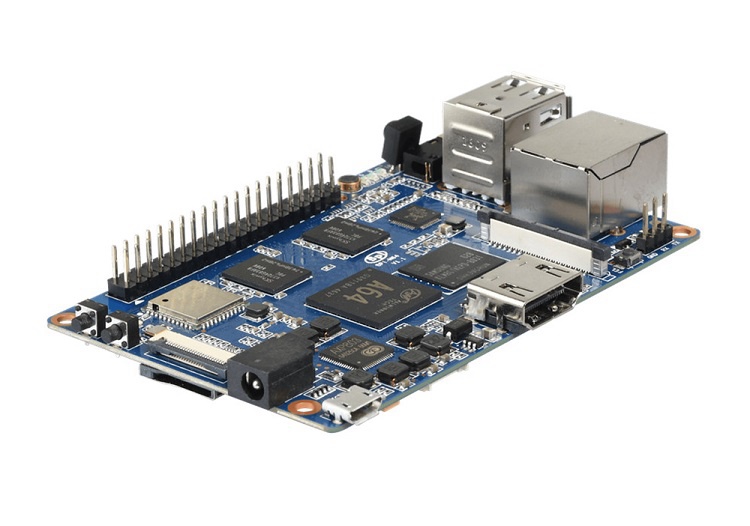 Banana Pi M64
Banana Pi BPI-M64 with Allwinner A64 chip design,2 GB DDR3 RAM and 8G eMMC
Banana Pi BPI-M64 is a 64-bit quad-core mini single board computer. It features 2GB of RAM and 8GB eMMC. It also has onboard WiFi and BT. On the ports side, the BPI-M64 has 2 USB A 2.0 ports, 1 USB OTG port, 1 HDMI port, 1 audio jack, and lastly a DC power port. The processor is pin-to-pin compatible with R18, so it comes with two versions:M64 and M64-R18.
---
CPU Allwinner 64 Bit Quad Core ARM Cortex A53 1.2 GHz CPU
GPU Dual core Mali 400 MP2 GPU
Memory 2GB LPDDR3 (shared with GPU)
Storage MicroSD slot with support for up to 256GB expansion and 8G eMMC flash with support for up to 64GB
Network 10/100/1000 Mbit/s Ethernet + Wi-Fi 802.11 b/g/n + Bluetooth 4.0
Video Input(s) A CSI input connector allows for the connection of a designed camera module
Video Output(s) 1080p capable HDMI port and multi-channel audio output (NO H./X.265 capabilities)
Audio Input(s) On board microphone
Audio Output(s) 3.5mm jack and HDMI
USB ports USB 2.0 PORT (x2), USB OTG (x1)
Remote IR Receiver
GPIO 40 Pin Header : GPIO (x28) and Power (+5V, +3.3V and GND). GPIO pins can be used for UART, I2C, SPI or PWM
Switches Reset, Power and U-boot
LED Power Status and 8P8C
Power Source 5 volt @2A via DC Power and/or Micro USB (OTG)
Size & Weight 92x60mm, 48g
OS Android and Linux
---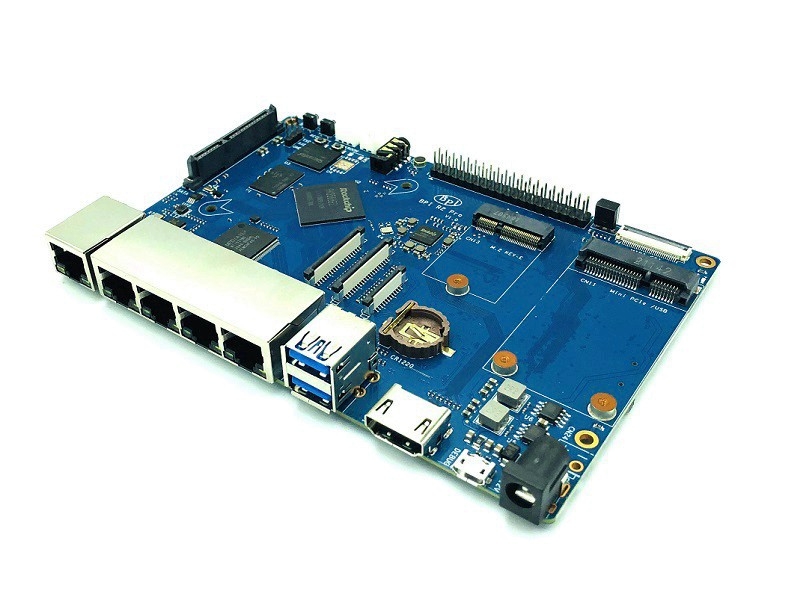 Banana Pi BPI-R2 Pro
Banana Pi BPI-R2 Pro Router board with Rockchip RK3568 chip design
Banana Pi BPI-R2 Pro is the next generation smart router developement board from Banana Pi in 2021. It is powered by Rockchip RK 3568 processor.Onboard 2GB LPDDR4 memory and 16GB eMMC storage, and supports 2 USB 3.0 interface, 5 gigabit network port. M.2 key-E and mini PCIe interface, 2 mipi DSI interface(one can change to LVDS by software), 1 CSI camera interface,1 HDMI output,support Android,Linux,OpenWRT system
BPI-R2 Pro same size as Banana Pi BPI-R2 , and interface is also same .so can use BPI-R2 case.
---
CPU Rockchip RK3568 Quad-core ARM Cortex-A55 CPU 2GHz
GPU Mali-G52 1-Core-2EE OpenGL ES3.2 Vu1kn 1.1 OpenCL 2.0
Memory 2G DDR3 SDRAM (option 4G)
Storage Onboard 16GB eMMC Flash, Micro SD-Card slot, SATA 2.0 Port,SPI flash
Network 5 x 10/100/1000 Mbit/s Ethernet
Display(s) 1 HDMI port, 2 DSI interface(1 DSI can change to LVDS by software)
Camera 1 CSI camera interface
Video decoder(s) H.265 HEVC/MVC Main10 Profile yuv420@L5.1 up to 4096x2304@60fps,H.264 AVC/MVC Main10 Profile
yuv400/yuv420/yuv422/@L5.1 up to 4096x2304@60fps
Video encoder(s) H.264/AVC BP/MP/HP@level4.2,up to 1920x1080@100fps, H.265/HEVC MP@level4.1, up to 1920x1080@100fps (4096x4096@10fps with TILE)
Audio Output(s) HDMI & I2S & Speaker & Headphone
USB port USB 3.0 PORT (x2), micro USB OTG (x1)
mini PCIE 1 mini pcie interface & 1 M.2 key-e interface
Remote IR Receiver (x1)
GPIO 40 Pin Header : GPIO (x28) and Power (+5V, +3.3V and GND). Some of I/O Pin can be used for specific functions as UART, I2C, SPI or PWM
Switches Reset button, Power button, U-boot button
LED Power Status and 8P8C
Power Source 12 volt @2A via DC Power and/or Micro USB (OTG)
Size & Weight 148 mm × 100.5mm 100g
OS OpenWRT, Linux and others OS
---